Musei di Strada Nuova: Palazzo Rosso, Palazzo Bianco e Palazzo Tursi.
We strongly suggest a visit the Museums, in order to fully understand the influence Genoa had during the XVII century on Europe's political and economic developments. In 2006, Via Garibaldi and its Museums was classed as a Unesco world heritage site.
The Museum of Strada Nuova and Via Garibaldi, are an architectural gem of Genoa's city centre. Renowned Flemish painter Rubes was so mystified by its beauty that he captured it in a planimetric and perspective study.
The Museum Centre consists of three buildings: Palazzo Bianco, Palazzo Rosso e Palazzo Tursi (today also the City Hall). The tour starts from Palazzo Rosso, through Palazzo Bianco and ends at Palazzo Tursi.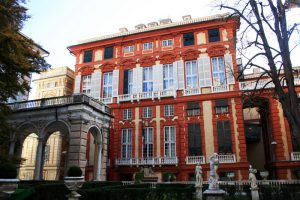 PALAZZO ROSSO – was built in between 1671 and 1677 upon request of the Brignole Sales's family. The Museum boasts many frescoes by Genoese and Italian-Swiss Baroque painters and paintings by renowned artists such as Guido Reni, Guercino, Mattia Preti, Bernardo Strozzi, Veronese and Antoon Van Dyck. From the terrace on the rooftop, it is possible to enjoy a full view of the city centre.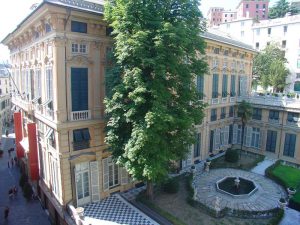 PALAZZO BIANCO – unlike Palazzo Rosso, which still preserves its historical mansion, looks today more like a modern art gallery, thanks to the post –war restoring work carried out by the architect Franco Albini. The Gallery offers a tour through the Genoese, Spanish, Flemish and French painting of the XVI and XVIII century. Amongst the many artists displayed we highlight: Veronese, Filippino Lippi, Giorgio Vasari, Luca Cambiaso, Simon Vouet, Pieter Paul Rubens e Antoon Van Dyck. In addition to the paintings, it will also be possible to admire the sculpture of the Penitent Magdalene by Antonio Canova.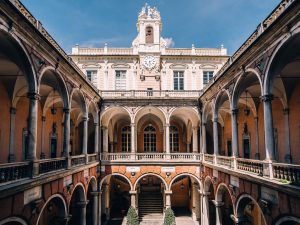 PALAZZO TURSI Â – the City Hall, has a beautiful roof garden and inside its galleries showcases ancient and delicate china, a coin collection and the renowned violin owned by Paganini, one of the most famous violinists.